R & D support - numerical modeling - experimental protocols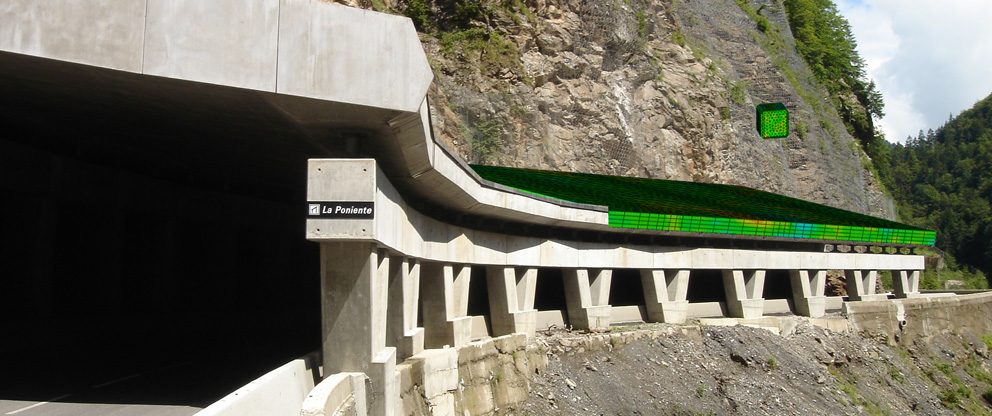 In parallel to its activities in snow-avalanche engineering, Engineerisk provides its tool-box and skills to support its customers' R & D projects. For this, Engineerisk has a network of partners, consulting firms and academics to solicit additional resources if required.
OUR METHODOLOGY
Engineerisk addresses all the problems of structural dynamics and behavior of materials under severe conditions (contact, impact, explosion, vibration, energy dissipation ...) related to natural phenomena or industrial contexts.
Its services include:

- The scientific analysis of the problem in relation to the latest research and technical state of the art.
- Refined numerical modeling especially based on nonlinear Finite elements
- Definition and coordination of the necessary test protocols:
- Original test site including explosions or impact
- Implementation of measurement facilities including in situ: high-speed camera, strain gages, dedicated sensors
- Advice and technical support from prototypes achievement to industrial protection strategy
Beyond the academic experiences of its members, Engineerisk has also participated in several European research4PMEs projects with the emergence of several patents.
Finally, Engineerisk is approved by the French Ministry of Research for Research Tax Credits (CIR) and Innovation (CII): the services invoiced are eligible for these tax credits (up to 30% of expenses).
Some references:
Development of a solution for restraining an ejection seat in case of accidental activation within a maintenance building.
Calculation of a temporary impact roller stop (Constellium)
Experimental development of a low-cost explosive nut (Ximéca - EDF)
Development of a patent for the protection of industrial installations sensitive to the impacts of objects flying by tornadoes (Avaroc / EDF)
Development of a patent for ejectable road signs (Nadia Signalisation / General Council of Allier)
Development of a dissipating net patch for a new generation of impact barriers
Contribution to judicial appraisals including calculations of the tearing conditions of a gondola window